January 2007 - New Bearing Modification Service.
We will soon be offering an extensive range of bearing modifications.
NO MINIMUM ORDER CHARGE OR BREAKDOWN CHARGES.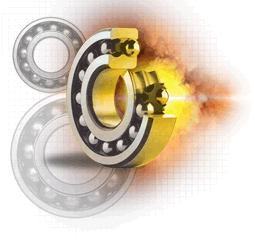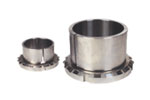 Adaptor Sleeves - Withdrawal Sleeves - Hydraulic Nuts.
New production by Bri-Mac in 2008.
December 2006 - New Manufacturing Base.
Bri-Mac plan to move into a NEW purpose built bearing housing production facility which will further increase its manufacturing capacity and flexibility ... ... click back for more news very soon.
November 2006 - Bri-Mac visit France.

In an attempt to see many customers in one location, Paul McCairn visited the Pollutec Exhibition in Lyon on 28-30 November. "The metals recycling sector is an important market for Bri-Mac and it was great to see so many of our customers. Wind turbines also use large bearing housings, and I had time to look at opportunities that exist in this growing market",
November 2006 - Bri-Mac visit to Ireland.
Bri-Mac recently visited its varied bearing housing customer base in Ireland. We have a good mix of customers serving a wide portfolio of engineering disciplines and the 5 day visit was very worthwhile.
October 2006 - Bri-Mac production in Turkey.
Bri-Mac have successfully started production in Turkey. "After considerable research, we are now producing machined parts in such materials as Cast Iron, SG Iron, Cast Steel & Stainless Steel. This is excellent news for Bri-Mac. Turkey is ideally located to service our Middle Eastern customer base and our first shipments have been of the highest quality. Our casting and machining facilities in Turkey will help us to offer our customers a more competitively priced product and help us to open up new markets" Paul McCairn commented on his return to the UK.
September 2006 - Bri-Mac in Poland.
Paul McCairn, 2nd left, dines with customers from Germany, USA and Greece.
During a busy period, Paul McCairn also visited Warsaw to attend a Bearing Conference which enabled him to personally meet up to 35 customers. "Nothing beats meeting your customers face to face. I had quality time with many customers who we have supplied bearing housings to on a regular basis - on a global scale".
July 2006 - New Agent in The Middle East..

To further increase its market presence, Bri-Mac have appointed a company in Dubai to act as their sales agents in the region. "This move will help to monitor and satisfy the high demand for bearing housings in the Middle East, and we are looking forward to working with a well known and highly regarded company very soon", commented Paul McCairn on his return to the UK.
Paul McCairn (centre), meeting with the Directors of our new agents in Dubai.

March 2006 - Bri-Mac in Malaysia & Singapore.
'>Paul McCairn visits Malaysia & Singapore. "This is an exciting market for my company. We are very pleased to have the assistance of UK Trade & Investment to reach out to these markets",
Paul McCairn said in Malaysia. " We have a network of customers in the heavy engineering sector and we feel it is very important to visit the market. We supply steel mills and cement works with cast steel bearing housings weighing 650 kg
.
December 2005 - New MWTF Board Member.
Paul McCairn is invited onto the board of the Midlands World Trade Forum. "I am delighted to be parts of the MWTF at board level. I joined the MWTF two years ago, and the help and encouragement I received pushed my company into believing that exports is not only important for the growth of any business, but is also exciting and rewarding. I owe the MWTF for the help they have given Bri-Mac - and hopefully I can return the gesture by structuring future strategy to help other SME's in their persuit of invaluable overseas business".
November 2005 - Bri-Mac in China.

Realising the importance of adding value to their product line, Bri-Mac visited Changzhou in China to increase its global sourcing operation. "We have been successful in locating good quality SG Iron castings from an established foundry - we hope to create a long lasting relationship with our new Chinese partner"
Paul McCairn commented during his 7 day visit.





November 2005 - After winning several high profile orders overseas, Bri-Mac have received recognition for their recent export achievements.

Graham Ashmore, Head of European and Cluster Policy for UK Trade & Investment, said to the national magazine "Export" and to the regional press:



"Paul McCairn and Bri-Mac have shown that with enthusiasm and application there are still worldwide markets to be found for West Midland engineered products. Paul has taken full advantage of UK Trade & Investment services that have been tailored precisely to Bri-Mac's needs, from individual mentoring to support for individual specific market visits, and he very much deserves the success he is getting."



Graham Ashmore and Paul McCairn




Graham Ashmore with the Bri-Mac team



Thomas Solga (centre) with Paul McCairn
(Managing Director, left) and Terry Holdnall
(Production Director)

April 2005 - In our desire to penetrate the German Market, Bri-Mac have recruited the services of German graduate Thomas Solga.

Primarily Thomas has been brought in to deal with our German customers. He is able to translate technical enquiries quickly, enabling our sales team to generate fast and effective quotations.

"Thomas is a capable and hard working individual and has added greatly to our team. He has helped us with orders which we would not have previously received" said Paul McCairn.





April 2005 - Bri-Mac have been involved in the specification and design of plummer blocks for a dredging application in southern Asia.

The application involved sea water being pumped through to cool the bearing. Specialist seals were employed to keep out foreign bodies from the bearing assembly.



Dredger



Cement works

November 2004 - Bri-Mac has supplied the worlds second largest cement works with a range of high quality, long life, specialist cast steel bearing housings weighing over 1000 kg each.

The site in the Middle East operates 24 hours a day and the housings went through a rigorous destruction testing process before being selected. The Bri-Mac bearing housings outlasted their nearest competitor by a factor of four.

Managing Director Paul McCairn said 'once again the quality of the Bri-Mac product has been proven in the field of hostile working conditions, we are naturally delighted', Paul went on to comment, 'hopefully this will open doors to other similar markets'.






March 2004 - Bri-Mac are pleased to announce the largest order in their history for quarrying equipment to be used in hostile conditions in a South African mine.

The order represents the culmination of many years experience in this field and is directly due to its unique development of large cast steel bearing housings which are ideally suited to this application.



South African mine



Cast steel axle box suspension unit

December 2003 - Bri-Mac completed a large order for cast steel axle box suspension units for the UK rail industry.

We were successful delivering the specialised, high accuracy units to a tight delivery schedule.

PPaul McCairn commented 'this type of work is our speciality and we are pleased to have been of service, this is our fourth large order of this type'.
All flags provided by 3DFlags.com.

---
Unit 17 - Thornleigh Trading Estate - Dudley - DY2 8UB - United Kingdom Tel: +44 (0) 1384 455042 Fax: +44 (0) 1384 455052 Email: sales@bri-mac.co.uk © Bri-Mac Engineering Limited 2009